I can remember eating this banana layer cake when I was a little girl. It was one of my Mom's go to recipes for all sorts of celebrations. One weekend, I was trying to recreate the recipe from memory until I finally gave up and called her.
Since Mom has quite a few banana layer cake recipes, we had a very long conversation about exactly which banana layer cake recipe I was talking about. She  pulled out her recipe box, (remember recipe boxes?) and starting going through all her cake recipes.
I was so excited when she found not only this recipe, but my banana split cupcake recipe and a few other old recipes of mine. I had completely forgotten about most of them, especially that banana split cupcake recipe. She had kept them all those years. Moms are the best, aren't they? My family was really happy that she found this recipe as well as all the others.
This cake is super easy to make, just measure, mix and bake. Sometimes the best recipes are the ones that have been around forever.
Use your favorite dairy free frosting to ice this cake or try one of our dairy free frostings like our simple chocolate buttercream or our marshmallow buttercream.  A dairy free whipped topping would also be delicious.
This cake will keep nicely, three to four days, well covered on the counter top or longer, if refrigerated.
For more delicious dairy free recipes, please visit our recipe page.
Need help finding dairy free items in your grocery store? Download our free mobile app with scanner today to ease the stress of shopping for dairy free products.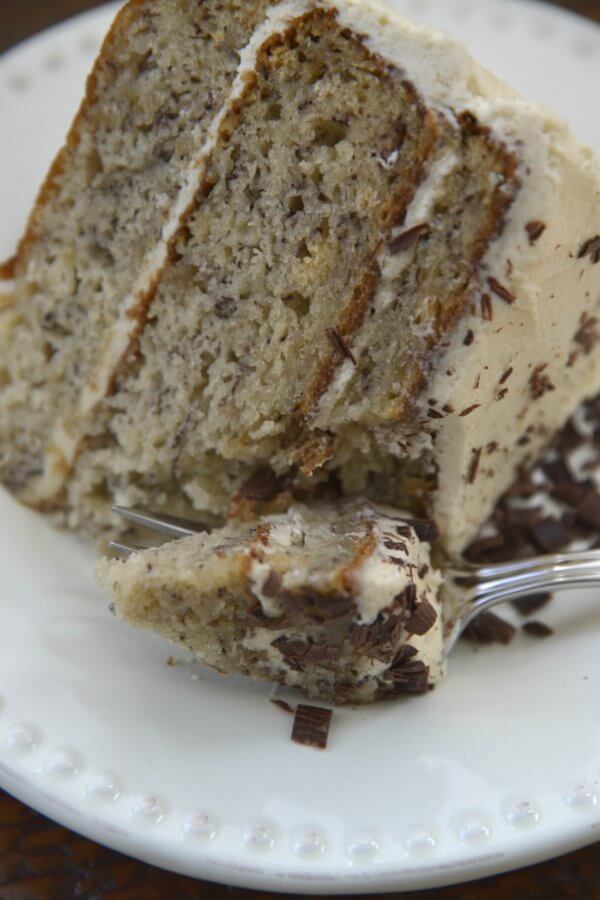 | | |
| --- | --- |
| | |
Spray two 9" round cake pans with cooking spray and line bottoms with parchment paper.

Mix non dairy milk and vinegar together. Stir well to combine. Set aside for 5 minutes to sour. Whisk all dry ingredients together.

In a large bowl, add the sour milk, butter substitute, eggs, vanilla extract and bananas.

Add 1/2 of the dry ingredients to the wet and mix on low until combined.

Add remaining dry ingredients to the wet and mix on low until combined.

Divide batter into the prepared cake pans. Bake at 350° until cake is golden brown and a tester inserted in the center of the cake, comes out clean, about 28-35 minutes.

Set pans on cooling rack for five minutes, then invert cake onto the cooling rack. Remove parchment paper and allow to cool completely.

Before frosting, refrigerate cooled layers until well chilled, about 30 minutes. This will make them easier to handle.