This Banana Split Cupcakes recipe is one of the first recipes that I created. Even as a kid, I was always thinking about recipes.  Partly for that reason, and the fact that both my mom and I love to bake, whenever we talk on the phone, we almost always talk about recipes.
We were talking about another banana cake that I remember my mom baking but I couldn't remember the recipe, but I knew it was simple to make and so delicious. That banana layer cake also made it into our website.
So Mom pulled out her recipe box and went looking for that recipe. Then she pulled out the recipe for these banana split cupcakes. Somehow, I did not remember it at all, but she had kept my handwritten recipe all these years, tucked into her recipe box. Moms are great, aren't they?
Originally this was a cake recipe and it makes a perfect 9 x 13 pan. After I baked it, I thought it would be perfect for cupcakes.  I knew why Mom had kept this recipe for all those years once I remade it. It is delicious.
A true test of a new recipe is always how fast it disappears. I left the covered, unfrosted cake and on the counter top and let my family know that they could taste it.
It didn't last very long.
Feel free to make it as cupcakes or a cake, whichever way is better for you. See the the notes section for how to bake this recipe in a 9×13 cake pan. The original recipe was with all purpose flour. Now that I am gluten free, I simply substituted a 1:1 gluten free all purpose flour mix. Either way, it is delicious.
Once baked, frost your cupcakes with our dairy free Marshmallow Buttercream and top with chocolate, chopped nuts and a maraschino cherry.
These cupcakes are perfect for a birthday party, celebration or anytime you want to have a little fun.
For more delicious dairy free recipes, please visit our recipe page.
Need help finding dairy free items in your grocery store? Download our free mobile app with scanner today to ease the stress of shopping for dairy free products.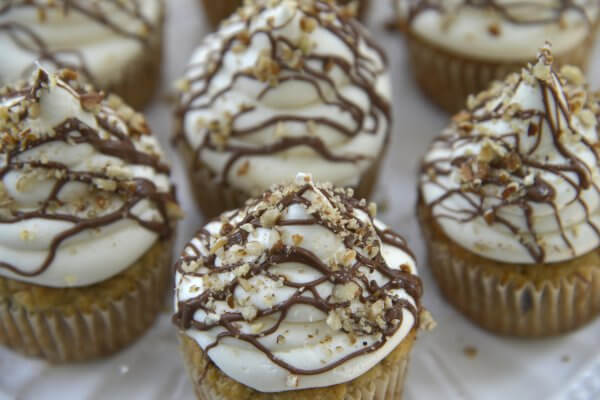 | | |
| --- | --- |
| | |
In a large bowl or a stand mixer, add all the ingredients, except for the chocolate chips.

With mixer on low, slowly blend until dry ingredients are just incorporated.

Once dry ingredients are incorporated, turn mixer to medium and blend until all ingredients are mixed well.

Fill cupcake liners 3/4 way full. Top with chocolate chips.

Bake at 375° until a golden brown and a tester inserted into the middle comes out clean about 18 - 22 minutes.

Remove cupcakes from pan and set on cooling rack to cool completely.

While cupcakes are cooling, make marshmallow buttercream frosting.

Once they are cooled, frost the cupcakes, topping each with a maraschino cherry and a sprinkling of chopped nuts.
For 9x13 pan:
Pour batter into a 9x13 pan that has been sprayed with cooking spray. Top with chocolate chips. Bake at 375° until golden brown and a tester inserted into the middle comes out clean, about 28-35 minutes.