I am a firm believer that you should always have lots of frosting choices. Whipped toppings and dairy free buttercream are great standards to start with, but it is always great to create a fun flavor like this dairy free marshmallow buttercream.
Growing up, my favorite treat was a chocolate snack cake filled with a marshmallow frosting filling and this marshmallow buttercream reminds me of that filling.
My mom was the bargain shopping outlet queen, with four hungry children in the house and a very tight budget. We were lucky enough to live right in the middle of two bakery outlets. There was no way that Mom could bake as much as we ate, so she would supplement her baking with bakery outlet sales.
Not only did she frequent their sales, but she always had plenty of helping hands for every trip. Mom froze those treats and doled them out sparingly, so they lasted as long as possible.
This frosting is a delicious dairy free alternative for all your cupcakes, cakes, and sandwich cookie fillings. Try it on top of our banana split cupcakes.
For more delicious dairy free recipes, please visit our recipe page.
Need help finding dairy free items in your grocery store? Download our free mobile app with scanner today to ease the stress of shopping for dairy free products.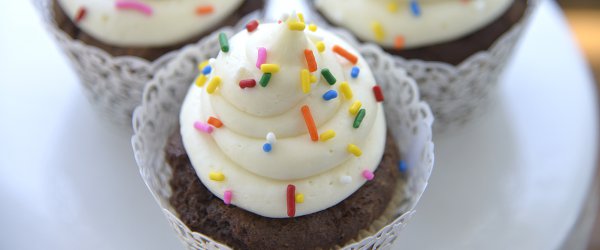 | | |
| --- | --- |
| | |
In a large bowl or a stand mixer, cream the butter substitute until light and fluffy.

Add marshmallow creme and beat until well incorporated.

With mixer on low, add one cup of powdered sugar. Once the sugar is incorporated, turn speed up to medium-high and beat for one minute.

Add vanilla extract and beat until well incorporated.

Continue to add powdered sugar, beating on low until incorporated and then on medium-high for one minute, until the frosting reaches your desired consistency.

Refrigerate any unused frosting in an airtight container.
This Marshmallow Buttercream is dairy, gluten free and vegetarian.