Labor Day is almost here and everyone is looking for fun, easy ways to celebrate with family and friends. Celebrate with a barbecue with hamburgers, hot dogs and chips with this tomato and corn salsa and our Cowboy Caviar.
This roasted tomato and corn salsa is absolutely addictive. Roasting the tomatoes, garlic, jalapeños and onions add intensity to the  flavors of the ingredients which makes this salsa absolutely addicting.
My kids put this salsa on top of everything. Besides chips, they slather it on hamburgers, hot dogs, tacos and brats.
The recipe is for a large batch of Roasted Tomato and Corn salsa, which can be scaled down or up depending on what you want to do.
I have added times for processing in a water bath canner at the end of the recipe.
This salsa can also be frozen so you can enjoy it all year long. Nothing is better on a cold winter night than cracking open a jar of salsa bursting with fresh summer flavors. Serve it alongside or on top of tacos for taco night, or on top of chicken for a delicious, taste of summer anytime of year.
For more delicious dairy free recipes, please visit NowFindDairyFree.com.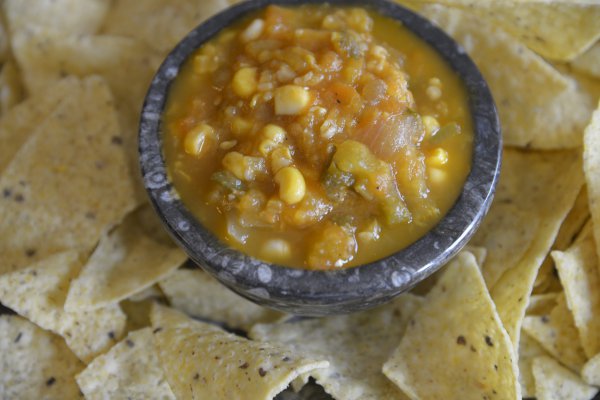 Passive Time

30

minutes to cool, chill oernight
Passive Time

30

minutes to cool, chill oernight
If using fresh tomatoes you will need to core and peel them. Use the link at the bottom to see our tips on peeling tomatoes.

Rough chop peeled tomatoes and add them into a large mixing bowl.

Add half the diced red onion to the mixing bowl as well as the corn, garlic, jalapeño, salt and olive oil. Mix together and spread over a large baking sheet, add the juice of one lime evenly over the tomatoes.

Place baking sheet in oven and bake for 25 minutes. If you want more browning you can broil mixture for the last few minutes keeping a close eye so it does not burn.

In a large stock pot or dutch oven add the tomato mixture, the remaining onion, lime juice, spices and vinegar. Bring to a boil. Once the salsa has come to a boil reduce the heat to a medium simmer and cook for 10 minutes stirring occasionally.

Allow the salsa to cool slightly and then spoon into storage jars or containers. I use small canning jars filling to the freeze line outlined on the jar. This makes 5 pints of salsa which can be stored frozen for up to one year.

If you are using a water bath, process pints for 10 minutes and quarts for 15 minutes. Allow them to rest for 5 minutes before removing from the water bath. Let sit undisturbed for 24 hours and then test each seal. If any of the jars did not seal properly, refrigerate immediately and use within one week.
For step by step instructions on peeling tomatoes, click here.
This Roasted Tomato and Corn Salsa recipe is dairy free, gluten free, vegetarian and vegan.