I discovered Cowboy Caviar at our annual fishing derby. Someone brought it as a dish to pass and I was instantly intrigued. I had never heard of it before. Uncertain whether or not the recipe was safe for my food allergies, I didn't give it a try. I did not forget about it. And I knew that I was going to have to try to create the dish for myself. I was happy to discover that in addition to be delicious, Cowboy Caviar is incredibly quick and easy to make.
This is an amazingly refreshing, simple to make and a wonderful dish to bring to any BBQ, potluck or to have in your house for just for a snack. Not only can it used with chips as a salsa, as a relish or condiment, but it is substantial enough to stand alone as a side dish.
I looked at recipes that included avocado and others that did not. I decided to add avocado, but it is optional. You can make this as mild or as spicy as you like, for this recipe I used a mild pepper.
Serve this dish together with tacos made with our dairy free Taco Seasoning Mix and our Spanish rice, for a festive and fun meal.
For more delicious dairy free recipes, please visit our recipe page.
Need help finding dairy free items in your grocery store? Download our free mobile app with scanner today to ease the stress of shopping for dairy free products.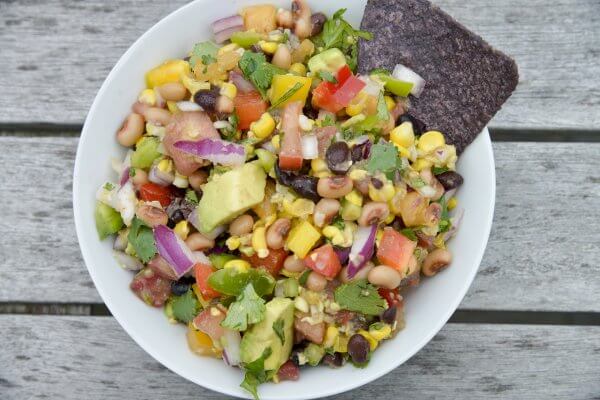 | | |
| --- | --- |
| | |
Put all of the salsa ingredients in a large bowl and mix together well

In a small mixing bowl add the ingredients for the dressing and mix well

Add the dressing to the salsa and stir all the ingredients together

Serve with tortilla chips and enjoy!
You can add any kind of hot peppers you like, it is up to you how spicy you like it.
This Cowboy Caviar recipe is dairy free, gluten free, vegan, and vegetarian.