This simple roasted chicken recipe is great for a Sunday dinner or any day when you want elegance without all the fuss. When making this recipe, be sure that the oven is at the correct temperature before you put the bird in. This recipe requires is that you  leave the bird alone while it is cooking. Isn't that a beautiful thing?
My favorite side dish to serve with this roasted chicken is another equally simple dish. I boil some baby red potatoes just until fork tender and then add some butter substitute, salt, and pepper to them. Right before serving I like to sprinkle dried parsley on the chicken and potatoes for a splash of color.
Add a nice salad and some bread and you have a perfect Sunday dinner that is not only delicious but also easy. No fuss, no muss, just an amazingly beautiful meal.
When I make this chicken, I like to use the leftover chicken for chicken salad. I will either freeze the carcass for later or make chicken stock or my kids favorite soup.
For more delicious dairy free recipes, please visit our recipe page.
Need help finding dairy free items in your grocery store? Download our free mobile app with scanner today to ease the stress of shopping for dairy free products.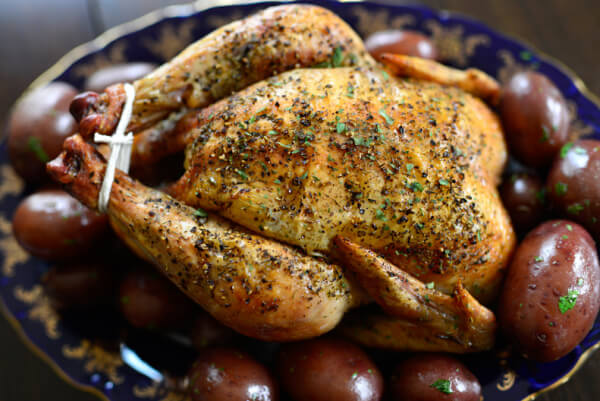 | | |
| --- | --- |
| | |
Wash the bird thoroughly inside and out with plain water. Make sure to check inside the bird for the neck and giblets. If there are any, remove them and save for later to make soup.

Pat the bird dry inside and out. You want to remove any excess moisture from the bird.

Rub a small amount of olive oil all over the inside and outside of the bird and sprinkle both the cavity and outside with a thin even layer of salt and pepper.

Truss the bird, keeping the legs close to the breast.

Place the bird in a roasting pan and put it in the preheated oven. Make sure the oven is at temperature before inserting the bird.

Let the chicken cook undisturbed for about 50-60 minutes.

The bird is finished when the thigh temperature is 175º. When you take your chicken out of the oven place the bird on a carving board or platter. Add the butter substitute and herbs de provence to the juices that are in the roasting pan and mix well.

With a basting brush, cover the herb mixture over the bird and let the chicken sit for 10-15 minutes before carving.
This Easy Roasted Chicken recipe is dairy and gluten free.