I have never been a fan of winter, but unfortunately I live in the Midwest. Our winters can be very long and cold. There is nothing quite like having to step out of nice warm and cozy bed when it is freezing cold outside, to wake you up. Why do we live here? My other option is that I learn to hibernate and as much as I have pleaded and begged for that opportunity, my eyes promptly open at 6:30 every morning.  If I don't have the option to move or hibernate, I can turn to this vegan baked potato soup when winter is around the corner.
A creamy and filling bowl of soup is the perfect food to warm my body and nourish my soul. This dairy free potato soup always fulfills both those requirements and helps keep me going with a smile on my face and joy in my heart.
I have a couple of "soup" mugs that I use just to make the experience even that much more amazing.  I love getting all tucked in with a blanket on the couch with a steaming cup of this soup. It is a delicious way to get through our long and dreary winters.
For more delicious dairy free recipes, please visit our recipe page.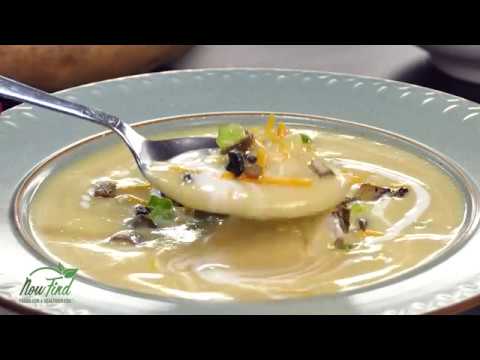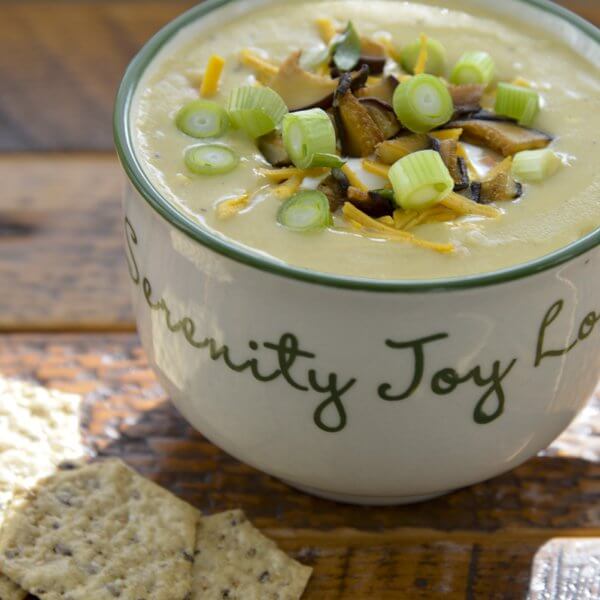 | | |
| --- | --- |
| | |
Add all of the ingredients into a blender and pulse until well blended. Set aside.
Finely dice the onion, celery and carrots in uniform sized pieces, set aside.

Peel and cube the potatoes into 1-2 inch sized cubes, set aside.

Add olive oil to a large dutch oven and when the oil is hot add the onion, celery and carrots. Cook for 5 minutes.

Add the cubed potatoes and stir well.

Add the vegetable stock to the dutch oven, make sure that you have enough liquid to cover the potatoes, if you need more liquid you can add water.

Cook on med/low for 15-20 minutes stirring occasionally. You want to cook until the potatoes are fork tender.

In a medium sized bowl add the flour and milk substitute, whisk until well blended. Set aside.

When the potatoes are fork tender mash the potatoes with a potato masher breaking up the cubes of potatoes. If you want soup that is 100% creamy you can use an immersion blender.

Add the milk substitute and flour as well as the vegan cheese sauce salt and pepper to the soup and mix well.

Allow to cook for another 5 minutes to allow the soup to thicken up.

If desired, in a small sauté pan, heat the reserved tablespoon of olive oil, and when hot, add the diced mushrooms and sauté until well browned.

Ladle the soup into serving bowls and garnish with mushrooms, vegan sour cream, vegan cheese and green onion.