We are still doing well with our resolution to eat healthier almost one month into the year. Meal planning has been filled with lots of filling soups, vegetables, and lean meats. But Super Bowl Sunday is just around the corner and we can't help ourselves from getting excited about all the delicious food. And of course, there is the game. But these candied nuts are one of the treats I can't wait to have.
These candied nuts are really simple to make.  You do need to make them at least the day before you need them, so that they have a chance to dry overnight. Make sure you put your candied nuts in a safe place to dry, away from little fingers and paws. Trust me on this one.
I like to use a mix of nuts for the variety, but you can use whatever nuts you prefer. Almonds are really delicious, all by themselves.
Candied nuts will last up to one month if stored in an airtight container in a cool, dark place or up to six months in the freezer.
For more delicious dairy free recipes to start off your New Year, please visit our recipe page.
Need help finding dairy free items in your grocery store? Download our free mobile app with scanner today to ease the stress of shopping for dairy free products.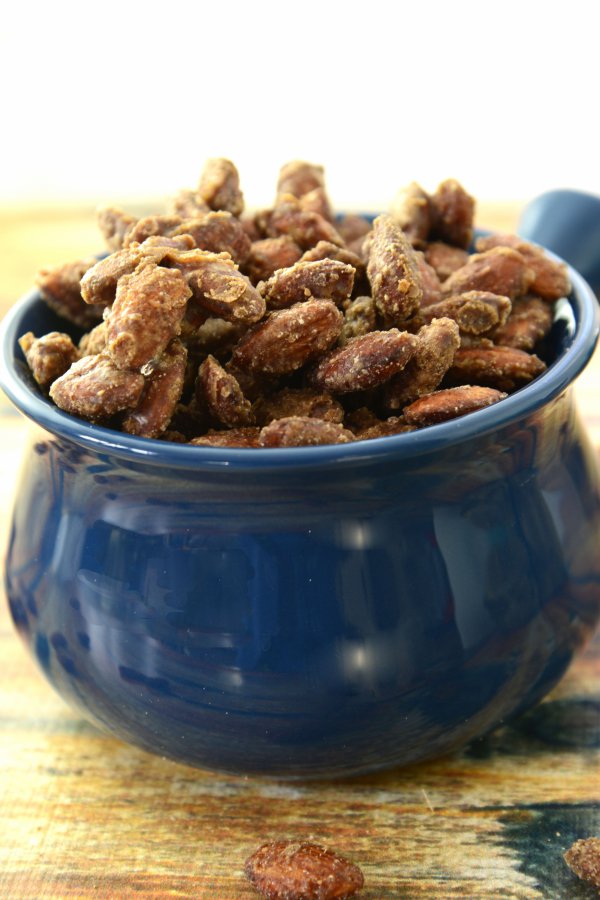 | | |
| --- | --- |
| | |
In a bowl, whisk egg whites and vanilla until frothy.

In a separate bowl, measure out sugars, cinnamon, salt and cayenne pepper. Whisk until combined.

Spray slow cooker well with cooking spray.

Add nuts to the slow cooker and pour egg white mixture over the nuts. Stir well.

Add sugar mixture to the slow cooker and stir until mixed well.

Cover and cook on low for 2 1/2 hours.

Add 1/4 cup water and mix well.

Cover again and cook on low for an additional 30 minutes.

Scoop out nuts and place in a single layer on wax paper until completely dry. I let mine dry overnight.

Store in an airtight container.
If you need to avoid eggs, you can substitute four tablespoons of aquafaba for the egg whites.
Aquafaba is the liquid that chickpeas are cooked and canned in.
This Slow Cooker Candied Nuts recipe is gluten and dairy free.