I love easy. There are days when I like to spend time in the kitchen playing with recipes, but I can't always do that. Our household is often scattered to the wind when athletic activities and holidays collide. That's when I need easy. And this Lemon Berry Trifle delivers just that in a beautiful and delicious fashion.
In under thirty minutes, you can throw this trifle together and everyone will be impressed. Once it's all put together, just refrigerate until needed. No baking required, just mix up your fillings and layer away.
Yellow or pound cake is the traditional choice for trifles but choose your favorite. Chocolate cake combined with strawberries, raspberries and blueberries is a delicious option. Blackberries, raspberries and blueberries with spice cake would be out of this world amazing and also completely unexpected. Let your imagination run wild and try all sorts of flavor combinations.
Perfect for a busy life that needs a last minute dessert, this lemon berry trifle will always be a hit.
For more delicious dairy free recipes, please visit our recipe page.
Need help finding dairy free items in your grocery store? Download our free mobile app with scanner today to ease the stress of shopping for dairy free products.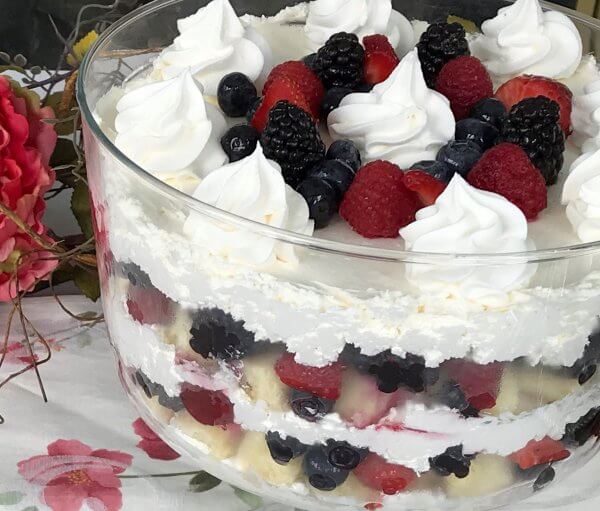 Passive Time

1

hour to chill
Passive Time

1

hour to chill
Place cleaned and dried berries into a large bowl. Add granulated sugar, gently tossing until well mixed.

Allow berries and sugar to sit at room temperature for at least 30 minutes to allow a syrup to form.

In another large bowl or a stand mixer, whip the non dairy cream cheese and whipped topping together on medium-low until combined.

With mixer on low, add lemon zest and juice, blending until well combined.

Break cake up into bite size pieces.

Once a syrup has formed from the berries and sugar, you can assemble your trifle in a large trifle bowl or 12 small trifle bowls.

Place an even layer of the whipped topping mix on the bottom of the bowl. Use the back of a spoon or an inverted spatula to even the layer out.

On top of the whipped topping mix, place a layer of cake pieces, facing the prettier pieces along the outside edge of the bowl. This layer does not have to be completely even or full. The berries will fill in any gaps.

Spoon a layer of berries and its syrup on top of the cake pieces.

Repeat the layers until you have reached the top of the bowl. Top with a final layer of whipped topping mixture.

Cover top with plastic wrap and refrigerate at least one hour until well chilled.

Right before serving, decorate the top of your trifle as desired with more whipped cream and berries.
This Lemon Berry Trifle is dairy free.