I have never met a child who said no when offered a fruit roll up. They are hard to resist. Sweet and chewy, slightly sticky, they have always been a long time favorite for children of all ages. It was a very sad day in our home when we discovered that because of allergies, my children could not longer eat commercially produced fruit roll ups.
They were so sad, that I was determined to find someway to let them enjoy fruit snacks again. I had no idea that home made fruit roll ups are not only delicious, but are very simple to make.
I always have help in the kitchen when we run out of fruit roll ups. My children even love to go to the store to pick out fruit combinations. So far, all of their choices have been delicious.
Be adventurous and try all sorts of different fruit combinations. Our favorites are mango/guava and blueberry/cherry. And plain old strawberry is always a fan favorite.
Everyone loves these whole fruit, allergy and additive free treats. Because they are preservative free, we store ours in an airtight plastic container in the refrigerator.
You do not have to add granulated sugar to your fruit roll ups. Depending on the sweetness of the fruit that I am using, I will occasionally add a teaspoon or two.
For more delicious dairy free recipes, please visit our recipe page.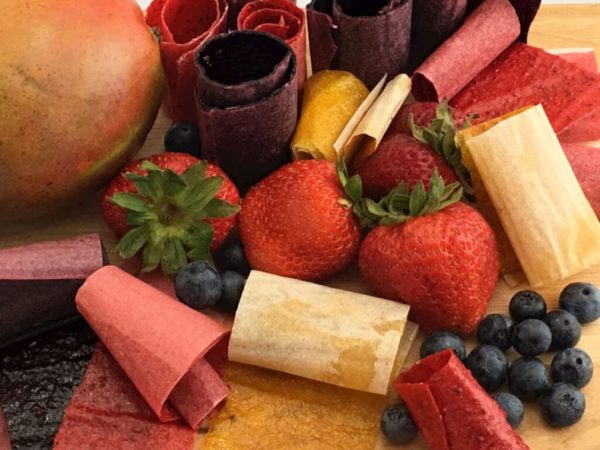 Place fruit into a saucepan and cook on medium for ten minutes.

Add lemon juice to fruit, 1/2 tablespoon for 2 cups of fruit.

If desired, add sugar to taste. Be careful when taste testing the cooked fruit, as it will be hot.

Put fruit in a heat safe blender or food processor or use an immersion blender to process fruit until smooth.

Pour fruit mixture onto a parchment paper covered baking sheet and spread evenly.

Bake in a 170 degree oven until the center is dry. Occasionally check to see how the center is drying up. Your fruit roll ups will be done the center of the fruit is no longer shiny, no jiggle and if you lightly touch the center, your finger will not have any residue. Remove pan from oven and allow to cool completely.

Leaving parchment paper on, cut into strips and roll. I divide my pan in half and then divide each half into 6 strips.

Store in an airtight plastic bag or container in the refrigerator.
This Fruit Roll Ups recipe is gluten free, dairy free, vegetarian and vegan.