Fish en Papillote is a simple and tasty dish that is quick to make for any busy weeknight. I really enjoy having fish for dinner, but was never eager to cook fish at home. Then I discovered cooking fish in parchment paper.
Cooking fish "en paillote" is very simple and a perfect first step for anyone hesitant to cook fish in their home. Baking fish in parchment paper produces a lovely, moist fish.
Gremolata is a delicious condiment for white fish and is simple to make from lemon zest, garlic and parsley. It is also perfect on pasta, roasted vegetables or chicken. Add some gremolata to your next meatball mix for a delicious twist on classic meatballs. You can shake up gremolata with olive oil and a little extra lemon juice to create a delicious salad dressing.
Fish en Papillote is a simple and tasty dish that is quick to make for any busy weeknight.
For more delicious dairy free recipes, please visit our recipe page.
Need help finding dairy free items in your grocery store? Download our free mobile app with scanner today to ease the stress of shopping for dairy free products.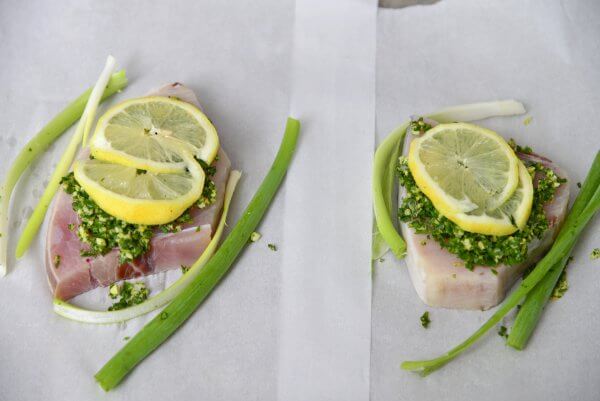 | | |
| --- | --- |
| | |
Make the gremolata by removing parsley leaves from the stems and mincing the leaves. Discard the stems.

Mince garlic then combine with parsley.

Zest both lemons. Add zest to parsley and garlic.

Mince parsley, garlic and lemon until finely minced and incorporated. Set aside.

Salt and pepper each filet as desired. Place one fish filet in the center of parchment paper, about 14" long. Repeat with the other filets.

Divide the butter into 4 pieces. Place one piece of butter on each filet.

Spoon equal portions of the gremolata onto each filet. Thinly slice one of the zested lemons. Place two lemon slices on top of the parsley mix. Slice green onions in half and then in half and place on two on top of each prepared filet.

Fold parchment paper over filet and crimp and fold the paper together tightly to seal.

Arrange two packets on each baking sheet and bake at 450° for 10-12 minutes, depending on the thickness of the filets. The paper will brown and puff.

Carefully slice open the packets to avoid escaping steam and serve immediately.
Fish en Papillote is a dairy and gluten free recipe.