This vegan tomato soup recipe was a happy accident. I was originally trying to make a vegan inspired tomato basil sauce. I had no tomato paste so I asked my son to run to the store and pick some up (it is so nice having kids that can drive) and while I was waiting I started messing with the sauce.
When I was done I thought to myself, hmm-mm, this is pretty amazing and it reminds me an awful lot of soup. By the time he got home, I was convinced that I had made an easy recipe for creamy tomato soup that is dairy free, gluten free and vegan. He agreed!!
I recommend using fresh ingredients, whenever possible, when making this soup. But obviously, if it is winter, for most of us, that is simply not an option. Make sure to pick up a high quality canned tomato, like San Marzano, to get the freshest taste possible.
The taste of this vegan tomato soup is really just divine. It has amazing flavor and a really creamy texture. Everyone will be so surprised that it is dairy free.
For more delicious dairy free recipes to get you through the winter months, please visit our recipe page.
Need help finding dairy free items in your grocery store? Download our free mobile app with scanner today to ease the stress of shopping for dairy free products.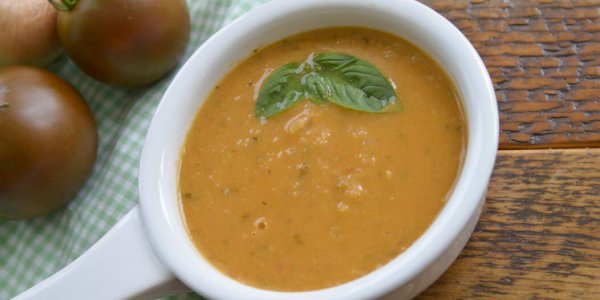 | | |
| --- | --- |
| | |
Add the olive oil to a stock pot or dutch oven, when hot add the onions. Cook for 5 minutes until translucent.

Add the minced garlic to the onions and cook for another 2-3 minutes.

Add the tomatoes, basil, sage, sugar and salt. Cook for another 10 minutes stirring well.

If using fresh chili pepper, use gloves to remove membranes and seeds. Chop as fine as possible. You can use as much or as little as you like depending on your tastes. One chili pepper just adds a little flavor and a touch of heat. If using dried add directly to the pot.

Working in batches, process the soup in a food processor or blender allowing the contents to vent occasionally, the contents can become very hot so work carefully.

Add the blended soup back into the pot and cook on low for another 2-3 minutes to blend everything together and keep hot.

Serve with fresh basil leaves, if desired.
This Creamy Vegan Tomato Soup recipe is gluten free, dairy free, vegan and vegetarian.