One of the best things about making corned beef and cabbage, is the leftovers. I love making corned beef hash and eggs. It is one of my favorite meals of all time.
"Hash" dishes became popular when food was scarce and leftovers were precious. Bits of vegetables and meats were cooked together to create filling meals. Skillets or one pot meals have come along way since then. Many variations have been adapted over the years. The only limitation to a hash recipe is your imagination, add your own vegetables to make this dish your own.
It is pretty rare that I actually have any corned beef leftover when I make it. This year, I set some aside so there would be some for my corned beef hash. It is a wonderful meal that takes a little time to put together but it is definitely worth the effort.
Don't have a corned beef and cabbage recipe. Click here to check out our recipe.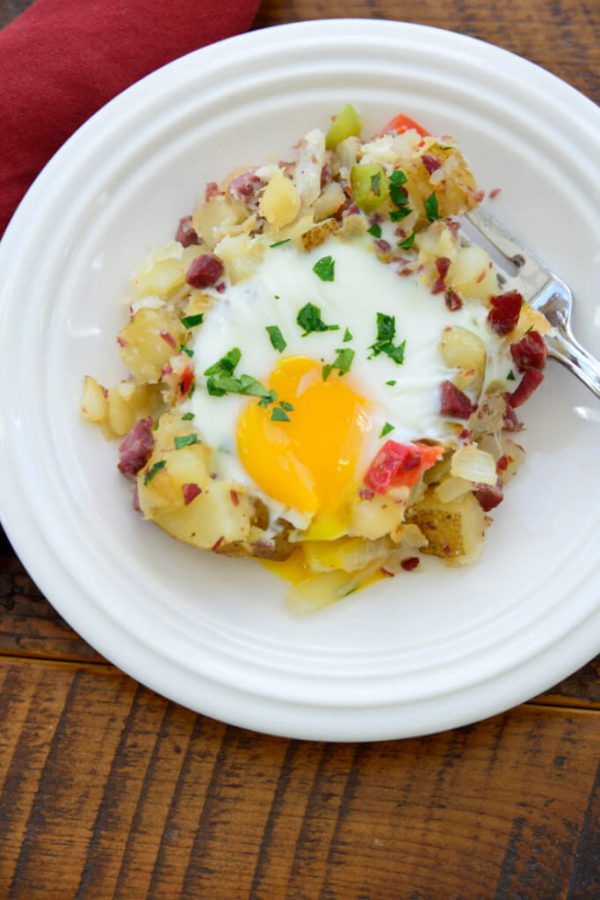 | | |
| --- | --- |
| | |
Scrub the potatoes and dice into 1 1/2 inch cubes. Place in a large stock pot with 8 cups of water and 1 tsp of salt. Bring to a boil and parboil for about 8 minutes. If you let them boil too long the potatoes will be mushy in the hash, so they still need to be firm when you drain the potatoes

Drain potatoes and rinse with cool running water.

Add 1 tbsp butter substitute and 1 tbsp oil to a large oven safe non-stick or cast iron skillet.

When the butter substitute and oil are hot, add the onions and garlic, cook until translucent, about 5 minutes. remove the onions and garlic from the pan and set aside.

Add the remaining butter substitute and oil to the pan and then add the potatoes. Cooking the onions and potatoes first allows them to get a nice golden crust on them.

Cook potatoes undisturbed for 5 minutes or until a nice crust has formed on the potatoes Turn them section by section with a spatula and cook the other side. If the potatoes seem dry add more butter substitute - 1 tablespoon at a time as needed.

Add the onions, corned beef and peppers to the potatoes, stir well to incorporate all the ingredients together.

Cook for another 5 minutes, pressing down on the potatoes with the spatula. Turn the potatoes, again in sections and continue to cook for another 5 minutes.

With the back of a spoon place 6 divots in the hash. Carefully crack the eggs, one at a time and place into each divot.

Carefully place the skillet in the oven and cook the eggs for 8-9 minutes.

Remove the skillet from the oven carefully garnish with chopped parsley (if desired) and serve hash and eggs while hot.
This Corned Beef Hash and Eggs recipe is gluten free and dairy free.