Growing up, my family always took driving vacations. We would get in the car very early in the morning and go back to sleep. By the time we woke up, we were halfway to our destination and it was breakfast time. Dad always stopped at a pancake house along the highway. We were allowed to order whatever we wanted, as long as we ate whatever was on our plate. My brothers and I always ordered chocolate chip pancakes that were bigger than our heads and finished every bite.
I passed my love for pancakes along to my children. If I am ever at a loss for meal ideas, breakfast is always my default and pancakes are always at the top of the list.
Even before going gluten free, I have made pancakes from scratch with this recipe. When money was tight, I found that it was cheaper to use what I already had in my pantry and we just liked the taste better. We have added chocolate chips, berries and pecans to the batter and they are all delicious.
Chocolate Chip pancakes are perfect for rainy or sunny days, happy or sad days. We have never found a day where pancakes didn't make everyone just a little bit happier.
For more delicious dairy free recipes, please visit our recipe page.
Need help finding dairy free items in your grocery store? Download our free mobile app with scanner today to ease the stress of shopping for dairy free products.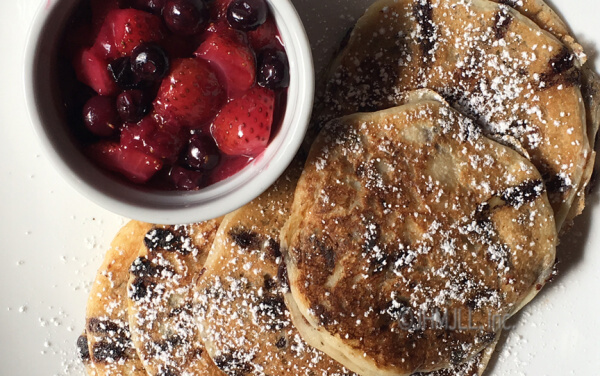 Cook Time

3-5

minutes per pancake
Cook Time

3-5

minutes per pancake
In a bowl, measure out flour, sugar, baking powder, and salt. Whisk well to combine.

In a separate bowl, measure out 1 cup milk, oil and vanilla. Add the egg and mix with a fork until the egg is broken.

Make a well in the center of the dry ingredients and add the milk mixture. Add lemon juice to the bowl. Stir until ingredients are combined, but still lumpy.

Let pancake batter sit for ten minutes. If the batter becomes to thick for your taste, add a little more milk, about a tablespoon at a time to thin it out.

Pour a 1/3 cup of batter onto a lightly sprayed hot griddle for each pancake. When the pancake surface is bubbly and the edges appear dry, flip the pancake to cook the other side until golden brown.

When pancakes are done, they can be kept warm on a baking sheet in a 200 degree oven until all the pancakes are finished.
This Chocolate Chip Pancakes recipe is gluten free, dairy free, and vegetarian.