The Now Find Family of Apps is proud to announce our latest release! We have lots of new features, bug fixes and of course, even more product updates to make it even easier to be dairy free.
The past few months, The Now Find Team has been working hard to bring you the most up to date and easy to use specialty diet apps on the marketplace! To ensure our data accuracy, we have removed all the discontinued products from our apps and will continue this process as more are found. We have also added manufacturer locator links to the products in our apps. This makes it even easier to find the foods you love, along with the ones you have yet to discover. In addition, we have added thousands more product pictures that will help you to easily identify specific products at the store or home.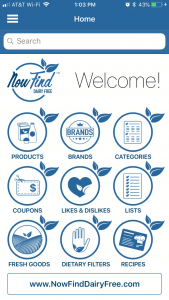 Along with the new data, we have also updated a few of the app features to make the Now Find experience, better than ever. So your shopping list will always be complete, you can now add all your other shopping needs to your shopping list, by text or speech to text. And because we never seem to remember anything, we have added the ability for you to leave notes on any product, so you will always remember!
Your feedback helps us improve! We would love to know what you think about the new updates! Please let us know. We take every comment and suggestion from our users to heart.
For tips on using our apps, please click here:  Useful App Tips
Until next time, Happy Spring from the Now Find Team!