Many people love to celebrate St. Patrick's Day with a parade and a lot of green beer, but in my home, it is a family holiday. We celebrate with the wearing 'o the green and enjoying wonderful foods like corn beef and cabbage, Irish Soda Bread and of course, dessert.
When I think of green food, I think of mint. And nothing goes better with mint, than chocolate.
My kids love cupcakes, so we take our favorite chocolate cake mix and bake it in shamrock shaped silicone molds. When they are finished, we slice them up, fill them with a delicious mint filling, decorate them and continue our celebration.
Don't worry if you don't have molds, you can bake the cake in a sheet pan and use a large shamrock cookie cutter to cut out your shamrocks.
Either way, it will be delicious.
Happy Saint Patrick's Day!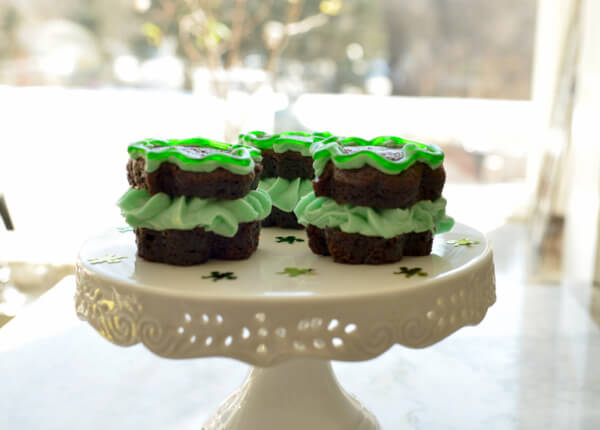 | | |
| --- | --- |
| | |
Following your cake directions, prepare your cake mix.

If using Silicone Mold(s): Spray your mold(s) with cooking spray well. Once sprayed, turn your mold upside down on a paper towel to allow any extra spray to drip out. Place mold(s) on a baking sheet and fill 3/4 full.

If using a Sheet Pan: Spray a 9 x 13 pan with cooking spray and line with parchment paper before filling.

According to cake directions, bake cake until a tester comes out clean. Place on a cooling rack and allow to cool.

When cool, remove cake from molds and slice in half horizontally. If using a sheet pan, using a shamrock shape cookie cutter, cut shamrock shapes from cake. Slice each shamrock cake in half horizontally.

Prepare frosting: In a stand mixer, place unsalted, room temperature butter in bowl. Mix on medium speed until light and fluffy. Scrape the bowl.

With mixer on low, slowly add 3 cups of powdered sugar in small amounts, allowing sugar to blend with butter between additions. Scrape the bowl after each addition.

Add the pinch of salt, one teaspoon of mint extract, one tablespoon of milk and green food coloring. Blend until well incorporated. Scrape bowl.

Add another tablespoon of milk. Blend on medium until well incorporated. If needed, add more milk until frosting reaches your desired consistency.

Pipe or spoon frosting on bottom layer of shamrocks. Place top layer onto buttercream filling. Thinly ice top layer and decorate with green piping or sprinkles as desired.
If you used silicone molds, these will store nicely on your countertop, covered for 2-3 days. If you used a cookie cutter for your shamrock shape, refrigerate, lightly covered with plastic wrap.