I learned a long time ago that busy hands are happy hands. We always have a bin full of crafts and board games for bored hands. And when the kids are off of school, we spend a lot of time in the kitchen baking together. Like so many things, this Cotton Tail Trail Mix was created out of my desperation. The weather was awful, everyone was home and I was losing my mind. I needed to find something for them to do and sweet treats always grabs their attention.
We made this trail mix out of what we had in the pantry. We are gluten free, so our mix is not only dairy free, but gluten free. Customize your mix to allow everyone to enjoy it, regardless of their food allergies or preferences.
This Cotton Tail trail mix is perfect for little hands to make with just a little bit of help, while you are busy in the kitchen. The recipe is very flexible, just use whatever you have in your pantry. A little sweet and a little salty, mixed with some marshmallows and chocolate, it will help keep hungry hands out of your kitchen while you are trying to finish your Easter meal.
Fun to make and so tasty, this treat won't last very long, so don't forget to save some for the Easter Bunny!
For more delicious dairy free recipes, please visit our recipe page.
Need help finding dairy free items in your grocery store? Download our free mobile app with scanner today to ease the stress of shopping for dairy free products.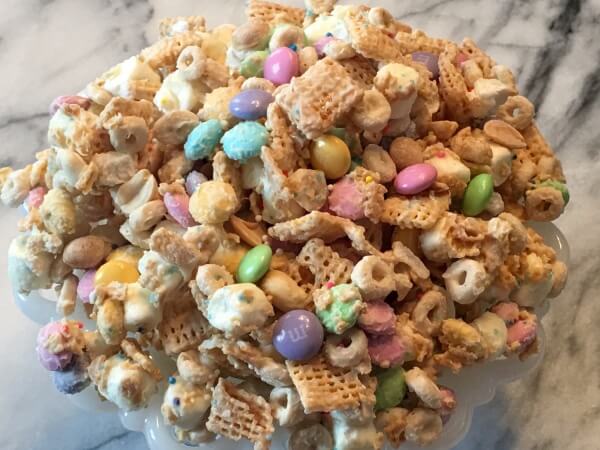 | | |
| --- | --- |
| | |
Combine all ingredients except for the white chocolate chips, in a large bowl. Mix well.

Melt white chocolate chips in a microwave safe bowl 30 seconds at a time, stirring after time, until chips are melted.

Add melted white chocolate chips to bowl and mix well until everything is coated.

Pour mix onto a silicone mat or parchment paper covered baking sheet and spread out evenly.

Place baking sheet in the refrigerator for 20 minutes until firm.

Break into small bite size pieces and store in a plastic storage bag until needed.
This Cotton Tail Trail Mix recipe is dairy free, vegetarian and can be gluten free with substitution.